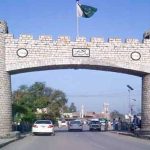 PESHAWAR: The Peshawar district administration has imposed a ban on pillion riding during first 10 days of Muharram.
According to a notification issued by the district administration of Peshawar, the ban is imposed as per section 144 of the Criminal Procedure Code (CrPC).
Under the ban, pillion riding, wall chalking, distribution and display of objectionable material, putting up posters on mosque and walls of Imambargah is banned.
Moreover, the notification stated, displaying and carrying weapons, entry of Afghan refugees into Peshawar and cantonment areas, sale and use of firecrackers is also banned.
Further, renting car and motorbikes, using cars without number plates and standing on rooftops of buildings and houses in surroundings of procession routes is also banned.
Those found violating the ban will face legal action by law enforcement agencies under section 188 of Pakistan Penal Code, the notification added.
The martyrdom of Hazrat Umar Farooq (RA) is being marked today across the country.
One of the most powerful and influential Muslim caliphs in history Umar (RA) became the second caliph after the death of Hazrat Abu Bakar Siddique (RA).