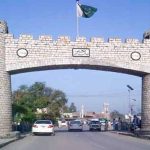 ISLAMABAD: Prime Minister Shahid Khaqan Abbasi and Chief of Army Staff (COAS) General Qamar Javed Bajwa on Monday arrived in Riyadh to attend the Islamic Military Counter Terrorism Coalition (IMCTC) conference.
Governor Riyadh Faisal bin Bandar Al Saud received the premier and COAS at Riyadh airport. Foreign Minister Khawaja Asif is accompanying the prime minister.
Earlier, the military commander of IMCTC General (retd) Raheel Shareef in his address on Sunday emphasised that the sole objective of IMCTC was counter-terrorism and it was not against any country or any sect.
While addressing IMCTC's defence ministers' conference in Riyadh, he said that while all individual states were making efforts against the menace of terrorism, the required level of synergy and resources were lacking, said a press release issued here.
He said that IMCTC would support its partners mainly through intelligence sharing and capacity building.
General Raheel said that Muslim world was the biggest sufferer of the menace of terrorism and during last six years alone, more than 70 per cent of all deaths attributed to terrorism had occurred in Muslim countries.
"Fight against the faceless enemy with extremist ideology is complex and challenging, requiring collaboration. Pakistan has turned the tide and has had defeated the menace," he said further.
Saudi Arabia's crown prince vowed to "pursue terrorists until they are wiped from the face of the earth" as officials from 40 Muslim countries gathered Sunday in the first meeting of an Islamic counter-terrorism alliance.
In past years, terrorism has been functioning in all of our countries… with no coordination" among national authorities, Prince Mohammed bin Salman, who is also the Saudi defence minister, said in his keynote address to the gathering in Riyadh.
"This ends today, with this alliance."
The summit is the first meeting of defence ministers and other senior officials from the Islamic Military Counter Terrorism Coalition, which officially counts 41 countries and identifies as a "pan-Islamic unified front" against violent extremism.
The alliance was announced in 2015 under the auspices of Prince Mohammed, whose rapid ascent since his appointment as heir to the throne in June has shaken the political scene across the region.
Sunday's meeting comes as several military coalitions, including key Saudi ally the United States, battle to push Daesh from its last remaining bastions in Iraq and Syria.
The alliance groups largely, although not exclusively, Sunni-majority or Sunni-ruled countries.
It excludes Iran, as well as Syria and Iraq, whose leaders have close ties to Tehran.