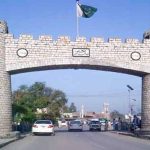 ISLAMABAD: Prime Minister Shahid Khaqan Abbasi has said that all institutions should work in their constitutional limits and supported Mian Nawaz Sharif's narrative about judicial system.
He was addressing the PML-N parliamentary party meeting here on Monday. He said that democracy was completing 10 years consecutively for the first time in the country's history.
According to reports, the prime minister directed the lawmakers to raise the issue of judges attitude in the parliament and promote the narrative of the former prime minister Mian Nawaz Sharif.
According to some media reports, the prime minister would also raise the issue of judges and judiciary in the National Assembly.
PM Abbasi said that the judges conduct should discussed in both houses of parliament and on every available forum. He said the it seems the PML-N and its leadership are being intentionally targeted.
The meeting expressed full confidence in the leadership of the Mian Nawaz Sharif and announced support for his narrative regarding judiciary and justice system.