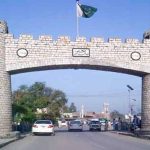 NEW YORK: Prime Minister Shahid Khaqan Abbasi had a brief meeting with US President Donald Trump at a reception the US leader hosted for the world leaders attending the 72nd session of the United Nations General Assembly.
The Prime Minister disclosed this at a luncheon meeting with the US Pakistan Business Council in New York on Wednesday.
The interaction with President Trump took place after his 45-minute long meeting with US Vice President Mike Pence, during which the two leaders had talks on bilateral issues and the Afghan situation.
"President Trump was very positive about Pakistan," the Prime Minister told the American businessmen and investors.
He said he told President Trump that Pakistan was committed to fight terrorism in all its forms and manifestations.
Prime Minister Abbasi later told the Council for Foreign Relations that "Pakistan wants to move forward and remain engaged with the United States."
The White House, in a statement, said," The Vice President and Prime Minister Abbasi had an important conversation about the President's South Asia strategy that was announced late last month."
According to the statement, the Vice President reiterated President Trump's belief that "Pakistan has much to gain from partnering with our effort" in the region.