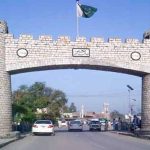 PESHAWAR: Prime Minister Shehbaz Sharif has announced a compensation amount of two million rupees each for the martyr and five-hundred thousand rupees each for the injured of Peshawar Police Lines blast.
Chairing the apex committee meeting in Peshawar on Friday, the prime minister paid glorious tribute to the unmatched sacrifices of security forces and people of Khyber Pakhtunkhwa in the war against terrorism. The Prime Minister said the Police Lines mosque blast is the deadliest incident after the APS incident of 2014.
Army Chief General Syed Asim Munir, federal Ministers, Chief Ministers of all four provinces and Gilgit Baltistan, AJK Prime Minister and senior officers of police sensitive institutions were  present in the meeting.
Shehbaz Sharif said political, social and religious leadership is united for eliminating the menace of terrorism from the country. He  called for national unity by setting aside differences to tackle the menace of terrorism.
Describing the Peshawar attack as the most horrific incident after the APS tragedy, he raised concerns over the resurgence of terrorism as it had been weeded out a few years back. He said several terror incidents were reported in the last few months in Khyber Pakhtunkhwa. "The whole nation is in shock," he remarked.
The premier once against questioned the use of Rs417 billion funding provided to the Khyber Pakhtunkhwa government in the last 10 years under the National Finance Commission Award. The premier admitted security lapse in the Peshawar incident but, at the same time, dispelled rumours that the mosque was targeted in a drone attack. He rejected such allegation as baseless and asked people to avoid such an inappropriate behaviour.