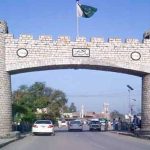 ISLAMABAD: Prime Minister Imran Khan has approved a proposal for bringing Shuhuda Assistance Package for ICT Police personnel at par with other parts of the country.
The Prime Minister was chairing a briefing in Islamabad on Wednesday about the performance of Islamabad Capital Territory Police and the way forward in transforming it into a model police force.
The Prime Minister also approved provision of Sehat Insaaf Cards to the Police personnel for catering to their health needs. He assured that the government would provide every possible support to ICT Police in its mission to serve the people and emerge as a model police force.
Discussing ongoing campaign against drug mafia, especially around the educational institutions, the Prime Minister directed that heads of academic institutes and parents should be taken onboard for the success of campaign against drugs.
On action against land mafia and anti-encroachment drive, the Prime Minister directed for greater coordination among ICT administration, CDA and ICT Police.
Earlier, IG Islamabad Amir Zulfiqar Khan briefed the Prime Minister about the performance of ICT Police.