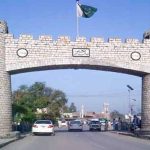 ISLAMABAD: The offices of the Prime Minister, Nawaz Sharif and Chief of Army Staff (COAS), Gen Qamar Javed Bajwa have taken notice of the threats to PEMRA employees and contacted Chairman PEMRA, Absar Alam assuring him full support in this regard.
They have further conveyed that strict action will be taken against those who are creating hurdles in establishing the writ of PEMRA.
PEMRA Chairman Absar Alam shared this information during the Regional General Managers (RGM) conference held at the PEMRA headquarters here on Thursday, said a press release.
This is a welcome step and investigations are already underway, he told the meeting.
The Chairman PEMRA had addressed a press conference on May 8, 2017 and had revealed about the threats to the employees of the electronic media regulator.
In that press conference, he had also appealed to the Prime Minister, Chief Justice of Pakistan and Chief of Army Staff to provide security to the staff of PEMRA.