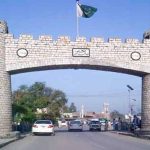 ISLAMABAD: Prime Minister Imran Khan is chairing a meeting at foreign office in Islamabad, where he is being briefed about Pakistan's relations with other countries.
Foreign Minister Shah Mahmood Qureshi, foreign secretary and other senior ranking officials of foreign office are attending the meeting.
The Prime Minister will also be apprised about the latest situation in occupied Kashmir and Pak-India relations.
Imran Khan will issue guidelines to the foreign office on the foreign policy.