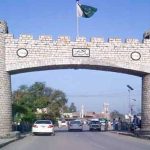 ISLAMABAD: Prime Minister Imran Khan on Sunday has reiterated that giving National Reconciliation Ordinance (NRO) to the corrupt elements would be equivalent to committing treason with the country.
In a statement, the premier criticized opposition parties and said that the country cannot be developed until they are made accountable. These people want to hear three words from my side. I will not give NRO to anyone, he affirmed.
The remarks of the premier came as Jamiat Ulema-e-Islam-Fazl (JUI-F) Chief Maulana Fazlur Rehman's deadline for PM resignation ends tonight.
On the other hand, Maulana is planning the next course of action for the Azadi marchers to proceed for increasing pressure on the government. Fazl had given PM Khan two days to resign or else he said: "We will be forced to think of another strategy".
Importantly, the opposition's Rehbar Committee has recommended a plan to shift the protest venue to D-Chowk.
JUI-F chief, while welcoming the leaders of political parties in Azadi March, said they [the protesters] would not be able to exercise patience after two days.