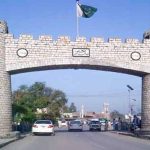 ISLAMABAD: Pakistan Tehreek-e-Insaf (PTI) Chairman Imran Khan said the Sharif family had lied over and over again during the hearing of Panama case in Supreme Court. He maintained that the PM had been caught red-handed after Panama Joint Investigation Team (JIT) report.
The apex court will now give its verdict and whoever rejects it will not allow supremacy of law, he said. Imran Khan said he was proud that overseas Pakistanis were returning to Khyber Pakhtunkhwa and called it a success.
On a question whether PM Nawaz will resign, PTI Chief made it clear that he believes the premier would now go to Adyala Jail.
While media talk in the capital, he highlighted the success of government schools in the province.