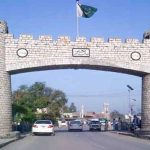 KARACHI: Chairman Pakistan Tehrik-e-Insaf (PTI), Imran Khan on Wednesday said Prime Minister Nawaz Sharif was 'destined' to face accountability irrespective of his evasion of responsibility on numerous pretexts including 'ribbon-cuttings'.
Addressing a news conference, Khan said PM's lawyers were trying to protect him on different grounds. He insisted that Panama case is a case of 20 million Pakistanis, not of him alone.
The PTI chief said he would accept the Supreme Court verdict in the case and expressed his prophecy that the verdict could change country's destiny. He hoped the prospective chief executives of the country would be afraid to indulge in money laundering or corruption after the Panamagate scandal.
Khan said the corruption elite need to be punished to bring about change in the country.
Calling the provincial capital of Sindh as the city of PTI, Imran Khan said his party will now be seen actively in the metropolis.He said 'china cutting coupled with different crimes in the metropolis made it suffer for long. He claimed that Karachi was now a city of PTI.
He regretted that over 40% people in Karachi didn't have access to clean drinking water.
He said people from all ethnicity should get ID cards by Nadra to let them exercise their right to vote.
He blasted the Mutahidda Qaumi Movement for resorting to 'ethnic-based' politics, which according to him pushed Karachi to the backwardness.
When asked to comment on the appointment of Governor Sindh Muhammad Zubair, Khan said he won't come hard on the newly-appointed governor, referring to presence of Zubair's brother and senior PTI leader Asad Umar at the press conference.
He, however, added that people in the Pakistan Muslim League-Nawaz ranks get higher positions for their mere loyalty with the Sharif family.