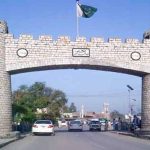 ISLAMABAD: Prime Minister Muhammad Nawaz Sharif has expressed his heartfelt condolences on the sad demise of senior Awami National Party (ANP) leader and seasoned politician Haji Muhammad Adeel.
Sympathizing deeply with the deceased's family, the Prime Minister prayed to Almighty Allah to bless the departed soul with eternal peace and grant courage to the family to bear the irreparable loss with fortitude.
He said that the contributions and services of the late politician for strengthening of democracy in the country, are indeed praiseworthy.
The Prime Minister said that late Haji Muhammad Adeel believed and worked for promotion of democratic norms in Pakistan.
The Prime Minister said he will be dearly missed by all of us.
ANP leader Haji Adeel passed away on Friday morning due to complications in the functioning of his kidneys.
Funeral prayers for the deceased ANP leader will be held at Peshawar`s Jinnah Park at 4:15 pm.
Haji Adeel served his party in the Senate from March 2009 to March 2015. He frequently represented ANP on various platforms and used to defend his party's stance vehemently.
Haji Adeel was died of cardiac arrest. He was also suffering from kidneys and liver complications.
He was born on October 25, 1944. He was elected member provincial assembly from NWFP (Now Khyber Pakhtunkhwa) in 1990, 1993, and 1997. He served as finance minister in the provincial cabinet in 1993. He was appointed deputy speaker of the provincial assembly in 1997-1999.
Adeel served his party on various positions, including parliamentary leader of the party in Senate, senior vice president of ANP, chairman election commission of ANP, and member central and provincial executive committees.
The ANP leader was also famous for his interest in regional issues and fine arts. He remained member, National Executive Committee, Pakistan India People Forum for Peace and Democracy. He also served as vice president Abaseen Arts Council and president Fine Arts Society, Edwards College.