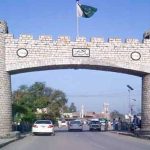 ISLAMABAD: Prime Minister Shehbaz Sharif will hold the National Security Committee on Friday to review the security situation in the country following a suicide blast in Islamabad and a spate of terrorist attacks in Balochistan and Khyber Pakhtunkhwa.
The civil and military leadership will attend the NSC meeting. A number of federal ministers will be in attendance.
Army Chief General Asim Munir, director general military operations, chairman joint chiefs of staff committee, naval and air force chiefs will also attend the meeting.
Military officials will brief the huddle on internal security and situation at the borders.
The meeting is expected to frame a comprehensive strategy against the terrorism and important decisions are expected in the meeting.