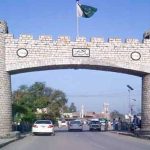 KARACHI: Pakistan Muslim League-Nawaz (PML-N) leaders held a meeting with the Muttahida Qaumi Movement (MQM) leaders at Bahadarabad on Thursday.
Earlier on their arrival, MQM leaders welcomed and thanked the visiting leaders.
Talking to the media after the meeting, PML-N leader Shahid Khaqan Abbasi said that they had visited Karachi and their doors are open for everyone. "The PPP has its own viewpoint and the PML-N its own. Prime Minister Imran Khan does not tell why the prices went high," he said.
He said they think that the government parties should be in contact with the parties in democratic societies. "We are ready to play our role for a strong democracy. There is need to empower the masses," he said.
Shahid Khaqan Abbasi said that they had visited Karachi under instructions from PML-N president Shahid Khaqan Abbasi. "We met the MQM leaders to strengthen democracy," he said.
He added that they are in harmony with the MQM to deal with the challenges being faced by the government. "All parties will have to find out the solution to the problems by sitting together. We want empowered local bodies system in all provinces," he added.
The PML-N leader said that they wish the government should complete its term.
MQM convener Khalid Mahmood Siddiqui said that the PML-N and the MQM had a long history of relations. "After today's meeting, we hope that PML-N leaders want new relations for a strong democracy after setting aside political differences," he said.