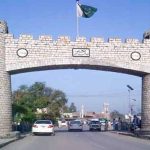 FAISALABAD: In yet another blow to Pakistan Muslim League-Nawaz (PML-N), five party legislators including three MPAs and two MNAs have submitted their resignations to Pir of Sial Sharif Muhammad Hameeduddin, a spiritual leader.
The resignations were announced during Khatm-e-Nabuwwat (finality of the Prophethood) conference being held at Dhobi Ghat ground here in Faisalabad.
The lawmakers who tendered resignations included Ghulam Bibi Bharwana from Jhang (Member National Assembly), Dr Nisar Ahmed Jutt from Faisalabad (Member National Assembly), Maulana Rehmatullah from Chinot (Member Provincial Assembly), Ghulam Nizamuddin Sialvi from Sarghodha (Member Provincial Assembly) and Muhammad Khan Baloch from Jhang (Member Provincial Assembly).
The conference is being attended by caretakers of various eminent shrines across the country, pledging support to Pir of Sial Sharif and his campaign against the culprits of Model Town tragedy.
As many as 25 councilors and chairmen of Punjab union councils are also expected to submit their resignations.
Earlier, a spokesperson of Sial Sharif shrine claimed participation of numerous caretakers of shrines to call for immediate resignation of the Punjab law minister.
The spokesperson also vowed to step up their campaign over non-fulfillment of their prime demand, resignation of Rana Sanaullah.
The PML-N government has been facing pressure from opposition parties calling for immediate resignation of Punjab Chief Minister Shehbaz Sharif and provincial Law Minister Rana Sanaullah over Model Town tragedy which claimed 14 lives of PAT activists.
Earlier this week, former president Asif Ali Zardari and PAT chief Tahirul Qadri unanimously demanded resignation from Punjab Chief Minister Punjab Shehbaz Sharif over the Model Town incident.
Expressing support to PAT, Zardari threatened to take to streets and launch a campaign against Shehbaz, if he did not resign after Baqar Najfi report made public.
On other hand, a six-member delegation of Pakistan Tehreek-e-Insaf (PTI) also held a meeting with Qadri and vowed the party support to his campaign .
Punjab government on Tuesday released the report of the judicial inquiry carried out into the 2014 Model Town incident hours after larger bench of the Lahore High Court (LHC) ordered the government to release the report regarding the incident which left at least 14 people dead and several others injured.
Meanwhile, Pakistan Sarzameen Party (PSP) leader Mustafa Kamal also held meeting with Dr. Tahirul Qadri on Saturday and announced his support for Pakistan Awami Tehreek (PAT) over the Model Town incident.
Amongst other conclusions, the report said that Chief Minister Punjab Shahbaz Sharif did not pass the "disengagement" order as he claimed before the judicial commission. It also maintained that the operation planned and designed under the then Punjab Law Minister Rana Sanaullah "could have easily been avoided" and that the "police officers actively participated in the massacre".