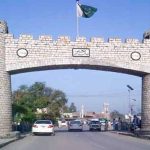 ISLAMABAD: Pakistan Muslim League-Nawaz (PML-N) Chairman Raja Zafarul Haq has urged the Election Commission of Pakistan (ECP) to pass orders for the release of Opposition Leader in the National Assembly Shehbaz Sharif.
Haq in a letter written to the electoral commission sought Shehbaz Sharif's release under Article 218(3) of the constitution, adding that the arrest would influence the by-elections.
"ECP should take notice of Shehbaz's arrest and direct National Accountability Bureau (NAB) to release him. It is an attempt to influence results of upcoming by-polls," read the letter.
"ECP should ensure the presence of polling agents inside polling stations. Long queues of voters should be prevented outside polling stations. Moreover, the voting process and counting should take place in the presence of polling agents.
"Technical issues pertaining to the Result Transmission System should be sorted out, and returning officers should hand over signed Form-47 to the polling agents," it added.
National Assembly Speaker Asad Qaiser on Wednesday had issued production orders for opposition leader Shehbaz Sharif.
The PML-N president in the wake of orders will be able to attend the extraordinary session of the National Assembly on October 17.