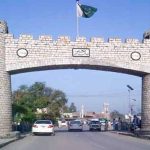 PESHAWAR: Workers of Pakistan Muslim League-Nawaz (PML-N) Sunday stormed the Khyber Pakhtunkhwa assembly as they protested against Pakistan Tehreek-e-Insaf (PTI) chairman Imran Khan's call for march towards Raiwind.
Dozens of PML-N workers, who were chanting slogans against Imran Khan, climbed the walls and gates of the assembly and displayed the flag of the party.
The protesters were of the view that they would surround the PTI chairman, if he marches towards Raiwind.
Imran Khan condemned the PML-N workers' "hooliganism at KP assembly".
"Shameful behaviour by PMLN goons trying to stop PTI from Raiwind March by hooliganism at KP Assembly. PMLN has record of such behavior," Imran wrote on his verified Twitter account.
He reiterated that PTI's Raiwind March is a peaceful protest and that his party would not march on to anyone's home.
"After today's PMLN hooliganism, I am more determined than ever to have the Raiwind March. PTI will not be deterred by PMLN's threats," Imran said.
It is pertinent to mention here that Imran had announced a march towards Raiwind on September 23 in a bid to press the government hold inquiry into Panama Leaks that disclosed the off shore holdings of Prime Minister Nawaz Sharif's family.