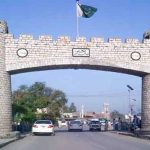 SURAB: Six colliers died Wednesday night after inhaling a poison gas that spread through the coal mine they were working in, in Balochistan's Surab district.
The deceased mineworkers' bodies were moved to the Civil Hospital Surab.
According to the District Administration (DA), a coal mine in the Siah Kumb area reportedly filled up with a poison gas, which, when inhaled by the pit workers, killed them.
When other coal miners came to know of the incident, they pulled out their colleagues' bodies from the mine by themselves and shifted them to the hospital.
The DA said an investigation has been launched into the said incident.
Officials of the Inspectorate of Mines – Balochistan, however, claimed that none of the mines in Surab district hold licenses from the coal mine regulatory department.