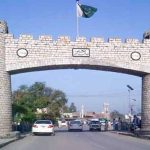 RAWALPINDI: Six individuals were recently arrested by the Rawalpindi police for engaging in illegal gambling during the ongoing Pakistan and New Zealand cricket series.
The incident occurred during the second T20 match of the series, when the police conducted a surprise raid and caught the suspects in the act.
During the raid, the police were able to confiscate several items of evidence, including prize bonds, cash, mobile phones, and other valuables, all of which were suspected to have been used in the illegal gambling activities. Upon further investigation, it was discovered that the suspects had been involved in online gambling through various apps, which had enabled them to carry out their activities undetected.
Of the six suspects who were apprehended, three were arrested by the Ganj Mandi police station, while the remaining three were taken into custody by the Civil Lines police station. The police officials involved in the operation have commended their officers for their swift and decisive action, which has helped to curb illegal gambling activities in the area and send a strong message to others who may be considering engaging in similar activities.
The suspects are currently being held in custody as the investigation continues.