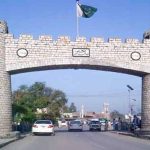 KARACHI: Sindh Police made progress in Naqeebullah Mahsood's murder case and arrested constable of Malir City Police Station who was the guard of an absconding officer in the case.
The constable named as Jameel Abbasi – who had been discharging his duty as guard for the Station House Officer (SHO) of Shah Latif Town, Amanullah Marwat – has been taken into custody during a raid in Quaidabad area of Karachi.
Media reports said that the arrested constable was sent to jail on judicial remand.
Jameel Abbasi served as the guard of SHO Amanullah Marwat who is said to be close to former Senior Superintendent of Police (SSP) Malir Rao Anwar.
The SHO Amanullah Marwat, former SSP Rao Anwar along with 13 other policemen have been declared as fugitives in the extrajudicial killing of Naqeebullah Mahsood.