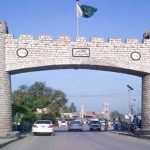 PESHAWAR: The first-ever rehabilitation centre for children with polio started functioning at the Paraplegic Centre, Hayatabad Township.
Khyber Pakhtunkhwa Finance Minister Taimur Salim Jhagra inaugurated the centre where free medication and supportive stuff would be provided to those affected by poliomyelitis in the province, a press release said.
"It is an excellent facility for the people handicapped by the crippling ailment. It is an example that how our experts are working to provide services to the people who are destined to remain handicapped for the rest of their lives," the minister said.
Mr Jhagra urged other provinces to replicate such projects to help medical rehabilitation of polio victims and improve quality of life of children suffering from polio-related disabilities.
The newly-launched facility has the services of the orthopaedic surgeons, physiotherapists, occupational therapists, nurses, psychologists and artificial limb workshop to provide full-fledged services to the children, told Syed Mohammad Ilyas, chief executive of the centre.
Few days earlier, the anti-polio drive was kicked off in the province. About 5.6 million children up to five years of age are to be administered anti-polio vaccine by over 27,000 teams constituted for the campaign.