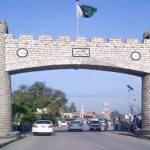 MUZAFFARABAD: Prime Minister Shahid Khaqan Abbasi has emphatically stated that Pakistan stands shoulder to shoulder with its Kashmiri brethren in their just struggle for the right to self-determination.
He was addressing the joint session of Azad Jammu and Kashmir Legislative Assembly and Azad Jammu and Kashmir Council in Muzaffarabad on Wednesday.
The Prime Minister said the Indian occupying forces have been unleashing wave of terror on innocent Kashmir people over the last seven decades but they have miserably failed to suppress their voice.
He said Kashmir is an internationally recognized dispute and its resolution lies in a plebiscite according to the UN Security Council resolutions.
Regretting the recent wave of terror unleashed by Indian troops in the held valley, the Prime Minister said Indian authorities are resorting to such failed tactics in order to crush the voice of Kashmiri people.
Shahid Khaqan Abbasi said the government, the people and all political parties are united on Kashmir issue and will continue to extend moral, political and diplomatic support to the Kashmiri brethren.
He said Pakistan has taken a strict stance on recent Indian brutalities in occupied Kashmir, demanding of India to allow the UN human rights commission to investigate the human rights violations in the occupied valley.
He said Pakistan has also asked the United Nations to appoint a special envoy on Kashmir to assess the situation.
The Prime Minister said Pakistan will send its delegations to different countries to apprise them about the deteriorating situation.
He said Pakistan will observe solidarity day with Kashmir on Friday.
Shahid Khaqan Abbasi said the Muslim countries have also voiced their concerns over the atrocities in occupied Kashmir.
The Prime Minister was confident that the Kashmiri people will come out victorious in their just struggle and their sacrifices will bear fruit as India has to bow its head before the international laws one day.
He said Kashmir dispute is also a challenge to the conscience of international community.