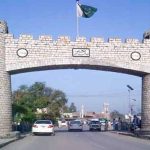 MANDI BAHAUDDIN: Polling for by-election in Mandi Bahauddin constituency, NA-108, concluded at 5:00 pm today.
The counting is underway as one-on-one contest between Pakistan Tehareek-e-Insaf and Pakistan Muslim League-Nawaz expected.
As many as 11 candidates, including that of seven political parties and four independents, are in the race for the constituency that had fallen vacant after the disqualification of Pakistan Tehreek-i-Insaf (PTI) MNA Ijaz Chaudhry.
Chaudhry was elected on NA-108 as an independent candidate during the 2013 General Elections.
He later joined the Pakistan Muslim League-Nawaz's (PML-N) before an election tribunal disqualified him for possessing a bogus academic degree. He then joined the PTI.
According to independent observers, the actual contest in the constituency is between PML-N's Mumtaz Ahmed Tarrar and PTI's Tariq Tarrar Raika, whereas the Pakistan People's Party's (PPP) Asif Basheer Bhagat, has also worked hard.