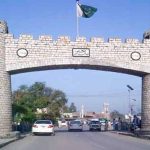 LODHRAN: The by-election in National Assembly constituency 154 Lodhran is underway with 10 candidates contesting the polls.
However, tough contest is expected among Pakistan People's Party (PPP) candidate Mirza Muhammad Ali Baig, Pakistan Tehreek-e-Insaf's (PTI) Ali Khan Tareen and Pakistan Muslim League-Nawaz's (PML-N) candidate Muhammad Iqbal Shah.
The polling will continue till five in the evening without any break.
According to returning officer, four hundred and thirty one thousand voters will cast their votes in the by-election.
Foolproof security arrangements have been made for holding free and fair by-election.
The seat fell vacant after the disqualification of PTI MNA Jahangir Khan Tareen.