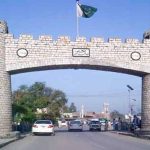 ISLAMABAD: The postmortem report of an eleven years old girl Farishta who was allegedly raped and then killed in federal capital has been prepared.
According to the postmortem report, the minor girl was attacked by a knife and severe loss of blood caused the death.
The report said that eyes, scull and feet of the little girl were eaten by animals. It added that the clothes of girl were not torn off.The report said the body of girl was eaten by insects and it was difficult to collect more evidences.
All eyes of Police are on DNA report now as doctors have told that not much evidences can be collected from postmortem.
In another development the police have termed the arrest of the victim's Afghan national neighbor – Nasir – vital.
As per details, Farishta went to her friend's – Wafa – home on May 15 but the police figured out through geofencing that she never reached there.
Another person has been detained from the place where Farishta's dead body was found. The suspect was involved in a woman's murder in Gujar Khan. The authorities recovered a juice box and a glass from the incident place as well.
The police informed that survey of 50 nearby homes has been completed.
Prime Minister Imran Khan took notice of the kidnapping, rape and murder of a 10-year-old girl in Islamabad and said he wants daily updates on the case.
He expressed his displeasure over the fact that arrests were made so late, even though the Farishta's family came to register an FIR the day she disappeared. He has suspended the DSP and made the SP the OSD in the case. PM Khan has also demanded an explanation from the IG and operations DG.
ISPR chief Major General Asif Ghafoor also condemned the incident and offered the full support of the army to bring the rapists to justice.