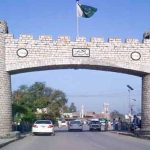 ISLAMABAD: Pakistan People's Party (PPP) Chairman Bilawal Bhutto Zardari said on Thursday unveiled his party manifesto while addressing a press conference here.
He said that current economic situation was unstable in the country saying that the previous parliament was a silent spectator in the time of crisis.
Bilawal said that the previous government weakened the accountability institutions of the state and added that institutions appear to be at loggerhead.
The PPP has named its manifesto, 'BB ka Waada Nibhaana Hai Pakistan Bachana Hai'.
Bilawal said that Pakistan was facing isolation despite rendering sacrifices of thousands of soldiers in the war against terror, adding that the country had become paralyzed.
"The process of reforms in democracy never stops. It's a continuous process," he said. "We have to free Pakistan from the fear of poverty."
Bilawal said that under a pro-active foreign policy, his party would highlight the human rights abuse being committed by the Indian forces in the occupied-Kashmir.
"Foreign policy should be rooted in economic diplomacy," the PPP Co-Chairman said.
He also deplored that the country had no foreign minister for as many as four years.