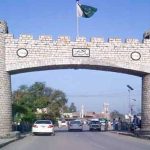 KARACHI: Pakistan Peoples Party (PPP) has decided on Thursday to file an appeal against the Anti-Terrorism Court's verdict in the Benazir Bhutto murder case.
The decision to file an appeal was made in Bilawal House during a party advisory meeting, which was chaired by PPP Chairperson Bilawal Bhutto Zardari, and Co-Chairperson Asif Ali Zardari.
The appeal will be filed by Latif Khosa on behalf of Asif Ali Zardari, it was decided in the meeting.
While addressing a news conference, Latif Khosa said that Asif Zardari as legal heir will file an appeal against ATC verdict in Benazir murder case.
Earlier, Latif Khosa and Aitzaz Ahsan had briefed the party leaders over the Benazir Bhutto murder case.
The meeting was attended by prominent PPP leaders including Khursheed Shah, Faryal Talpur, Yousaf Raza Gilani, Qamar Zaman Qaira, Farhatullah Babar, and Nayyar Hussain Bukhari among others.
On August 31, the Anti-Terrorism Court (ATC) announced its verdict in the murder case of former prime minister Benazir Bhutto after almost ten years.
The verdict announced by ATC Judge Asghar Khan at Adiala Jail cleared five accused in the case, sentenced two former police officials and declared former president General (retd) Pervez Musharraf as an absconder.
Aitzaz Shah, Sher Zaman, Abdul Rasheed, Rafaqat Hussain and Hasnain Gul, who were indicted by the ATC in November 2008, were cleared of all charges.
While Saud Aziz, who was the police chief in Rawalpindi at the time of Bhutto's assassination, and former Rawal Town SP Khurram Shahzad, were sentenced to 17 years each and ordered to pay a fine of Rs0.5 million each.
The verdict also declared Musharraf an absconder in the case, ordering the seizure of his property.