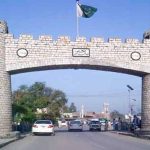 ISLAMABAD: Pakistan Peoples Party (PPP) and Jamaat-e-Islami have decided to oppose extension to military courts ahead of National Assembly Parliamentary Parties consultative meeting to discuss extension for military courts.
Chairing a consultative meeting of opposition parties regarding the revival of military courts, opposition leader Khursheed Shah on Tuesday said the Pakistan People's Party (PPP) will oppose the reinstatement of military courts.
The veteran politician chaired a consultative meeting of opposition parties a day after the federal government initiated consultations to introduce a constitutional amendment reinstating the controversial courts for a period of time all political parties agreed upon.
Also in attendance at the meeting were Pakistan Tehreek-i-Insaf (PTI) senior leader Shah Mahmood Qureshi and PTI's chief whip in the National Assembly Shireen Mazari, PPP's Naveed Qamar, and Jamaat-i-Islami's Tariqullah.
Speaking to journalists about the PPP's stance on the revival of military courts, Shah said, "This has been our point of view since day one."
The JI declared that they, too, would oppose the reinstatement of military courts.
PTI's Qureshi said the PTI would first listen to the government's point of view on the subject and then present its own.
Pakistan had legalised military court trials of terror suspects for a period of two years in January 2015, soon after the terror attack on Peshawar's Army Public School in Dec 2014, in which 144 people, most of them children, were killed by Tehreek-i-Taliban Pakistan militants.
The two houses of parliament had on that occasion voted unanimously for the legislation despite fears among the lawmakers that the tribunals they were authorising would not be able to ensure due process to the suspects and might undermine democracy.