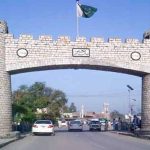 KARACHI: The PPP and JUI-F top brass have agreed to work together "for the sake of national integrity and the country's survival".
PPP chairman Bilawal Bhutto Zardari and co-chairman Asif Ali Zardari had an hour-and-a-half-long meeting with JUI-F chief Fazl-ur-Rehman at Bilawal House to discuss Pakistan's political situation.
The PPP leaders also congratulated Rehman on a successful multi-party conference.
During the meeting, both the PPP and the JUI-F leadership agreed to adopt a tough stance on National Finance Commission (NFC) award and the 18th Amendment to the Constitution.
The NFC award announced this year has seen cuts in the share awarded to Sindh, whereas the 18th Amendment is being eyed for a review by the PTI. The Amendment grants provinces greater administrative and fiscal authority and it was forged through a consensus during the PPP era.
Zardari, the former president, said that there would be no compromise on either the "anti-people" budget passed on June 12, or the NFC award.
"I have already said that Imran Khan is not qualified to run the government," Zardari said, adding that he had warned the government last year during a speech in the Parliament about the threat the country faces due to locust attacks.
The government did not take the concerns seriously "due to its stubbornness and ego", the PPP co-chair noted.
"If the locust attacks are not stopped immediately, the country might suffer a grave food crisis," he warned.
Noting that the nation was looking to Pakistan's Opposition parties with hope, Zardari said: "Imran Khan's incompetence has come to the fore during the current coronavirus crisis."
Meanwhile, Bilawal said the "selected government has been exposed on all fronts in the COVID-19 crisis".
"Pakistan and Imran Khan cannot go hand in hand", he added.
Lamenting that the incumbent prime minister was using the National Accountability Bureau (NAB) to take revenge from the Opposition parties and their leaders, Bilawal said it had been two years since the premier did anything in the public interest.
"All Opposition parties are on the same page against the current government," the PPP chief asserted.
Agreeing that the Opposition is united in its stance, the JUI-F chief said the PTI-led government had pushed the country's economy to the wall.
"The economy has never had a negative growth rate in the history of Pakistan. If the economy is to be saved, then everyone has to fight against the 'selected' leaders together," Rehman said.
Following the meeting, Bilawal announced his party's willingness to work together with JUI-F to overcome the multiple challenges the country is facing.
"JUI-F and PPP have worked together in the past and we must do so again if we are to overcome challenges to democracy, constitution, NFC and economy," Bilawal said in a tweet.