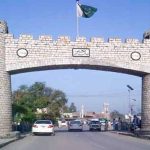 GARHI KHUDA BUX: Pakistan Peoples Party Co-Chairman and former President Asif Ali Zardari has said that the PPP would not support the PML-N government this time.
Addressing a rally in Gari Khuda Baksh on the tenth death anniversary of former Prime Minister Benazir Bhutto, Zardari said "just like you have issues with us, we have issues with you as well. You have always backstabbed us. This time we will not support you."
Zardari said that the PPP not accept any NRO for any one.
"We spend 12 years in jail while you spend a few months and then get to sign an NRO and attain your freedom. That will not happen again. We reject any NRO in the future," said the former president.
Zardari said he will be cautious in running the party and will always use politics for the betterment of the people.
"I consider every worker my child. Benazir did the same and used to cry for her workers," said the PPP co-chairman.
He said that Bilawal Bhutto is his leader and the leader of the youth. He paid rich tributes to Benazir Bhutto and said "have never seen anyone as brave as Benazir."
Enumerating the projects that PPP undertook under his presidency, Zardari said the projects were envisioned by BB.
He said BB has bravely confronted the forces of darkness and dictatorial regimes. "Eventually she embraced martyrdom while fighting for rights of the masses," he added.
A large number of leaders and workers of Pakistan People's Party (PPP) are attending the PPP public meeting at Garhi Khuda Baksh to visit the last abode of the first Muslim woman elected as Prime Minister to pay respects.