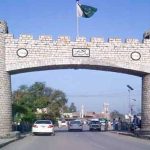 KARACHI: Pakistan People's Party (PPP) on Wednesday has objected to the appointment of a fresh Governor of Sindh by saying that the political organisation should have been consulted with.
Maula Baksh Chandio, Advisor to Sindh Chief Minister (CM) on Information praised Dr Ishratul Ibad however, Prime Minister (PM) Nawaz Sharif's attitude was that of a 'king' and that he did not cater to smaller provinces. He accused the premier of being interested in palaces and states , not democracy.
Chandio objected to the attitude of the federation towards provinces and termed it harmful for it in the long run.
Earlier today it was reported that former chief justice Saeed-uz-Zaman Siddiqui is expected to replace Dr Ibad as the Governor of Sindh.
The decision was taken during a meeting between PM and President Mamnoon Hussain in Islamabad on Wednesday.
However, the cabinet division sources told that its members have not been informed of the replacement yet.