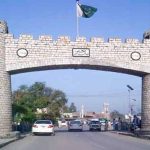 PESHAWAR: Pakistan People's Party (PPP) Wednesday termed Bus Rapid Transit (BRT) project a mega scandal not mega project as contract of the project was awarded to the company allegedly involved in corruption.
Addressing a press conference MPA Ziaullah Afridi and PPP Provincial General Secretary Behramand Tangi said that the contract of BRT Project was given to Maqbool Calson Company that was involved in corruption and was blacklisted by NAB. They said that provincial government acquired huge loans for making BRT, which is a project launched by PTI for their own interest.
They said that the government has usurped rights of KP's people through BRT.  They said that Metro Bus in Islamabad and Lahore were consists of 80 buses, but the PTI led KP Government estimated 400 buses just to get commission, they alleged.They further said that millions of rupees were spent for tree plantation in Peshawar that were now uprooted for BRT.They claimed that Chief Minister Pervez Khattak has received Rs4 billion commission for making bus stand in Karkhano Market.They alleged that the KP government was also involved in corruption in Bank of Khyber and various projects of education and forest and tourism which would be unveiled soon.