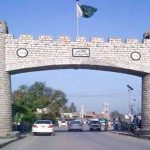 LONDON: Former prime minister Nawaz Sharif has said that pre-poll rigging had always produced negative impact on the country.
Talking to media in London, Nawaz said that the current spree of arrests was a bad omen. "This should stop," he said. "In Pakistan, it's a sorry state of affairs."
According to him, the current state of affairs in the country was creating confusion. "Pre-poll rigging has always produced negative outcomes," he said. "The entire world is watching the election exercise in Pakistan. We should not make a joke out of ourselves."
The former PM has been in London for nearly two weeks. He had arrived in London to spend Eid with his ailing wife, Begum Kulsoom Nawaz. However, she fell unconscious a day before Mr Sharif's arrival after a cardiac arrest. She has since been on life support at the Harley Street Clinic in London.