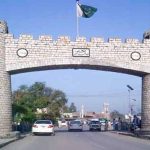 ISLAMABAD: The ousted prime minister Nawaz Sharif has said that it was premature to talk about the ongoing controversy regarding the Bani Gala residence of Pakistan Tehreek-e-Insaf (PTI) Chairman Imran Khan.
Talking to media outside the accountability court on Thursday, Nawaz Sharif said that he was reviewing the entire controversy and unlike Imran Khan, he would not level baseless allegations.
The former prime minister said he would see as to how the Supreme Court would decide the matter as the apex court was all set to take up the issue at 1pm today.
Meanwhile, media reports said that Nawaz Sharif has convened a consultative meeting of party members over the matter which will be attended by Islamabad Mayor Sheikh Ansar Aziz and minister of Capital Administration and Development Division Tariq Fazal Chaudry.
Let it be known that on Wednesday, Mohammad Umar, a former Bara Kahu union council official, claimed in the Supreme Court that the no-objection certificate (NOC) submitted in court by Imran related to his Bana Gala residence was never issued by the concerned authority.