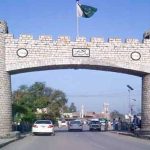 KARACHI: Prime Minister Shahid Khaqan Abbasi arrived here Sunday, mainly to attend a fundraising event, being arranged by a Cancer Care Hospital.
On his arrival, the prime minister was received by Governor Sindh Muhammad Zubair.
The premier is expected to address an Oil and Gas Development Company Limited event at the Governor House.