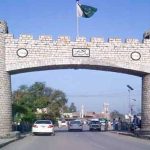 MUZAFFARABAD: Prime Minister Shahid Khaqan Abbasi has arrived in AJK capital Muzaffarabad to meet Hurriyat leaders and address the joint session of AJK Legislative Assembly and Council.
He is accompanied by federal ministers Khawaja Muhammad Asif, Mushahidullah Khan, Rana Tanveer, Mumtaz Ahmad Tarar and Chairman Kashmir Committee Maulana Fazlur Rehman.
In a message, the Prime Minister said Pakistan would stand up to the demand of the victims of Indian brutality.
He said Pakistan has strongly condemned the brutal and indiscriminate use of force by the Indian occupation forces leading to martyrdom of eighteen innocent Kashmiris in Shopian and Anantnag areas of Occupied Kashmir.
He said, Indian attempts to label the legitimate Kashmir struggle as terrorism cannot deter the valiant people of Jammu and Kashmir from their demand of exercising their right to self determination in accordance with the UN Security Council resolutions.