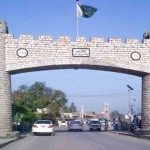 ISLAMABAD: Election Commission of Pakistan (ECP) has started the process of receiving nomination papers from candidates for the general elections scheduled to be held on 25th of next month.
A spokesperson of the ECP told our correspondent that the returning officers are receiving the nomination papers in their respective areas.
The nomination papers can be filed with the returning officers till Friday. On the same day, the ECP will publish names of the candidates.
According to the Election Commission schedule, scrutiny of nomination papers by the Returning Officers will be conducted by 14th of this month.
Last date for filing of appeals against decisions of returning officer regarding acceptance or rejection of nomination papers is 19th of this month. Revised list of candidates will be published on 27th of this month.
Candidates can withdraw their candidature by 28th of the current month and then final list of candidates will be published the same day.
Process of issuance of nomination papers by candidates for general elections has also started in Sindh.
Spokesman provincial election commission Sindh Yasar Mughal told our Karachi correspondent that process of issuance of nomination papers to candidates for seats reserved for women and minorities have been started from yesterday, whereas issuance of nomination papers to the candidates for general seats started today.
Kheealdas Kohistani of PML (N), Pehlaj Ram of PTI, Ramesh Kumar of PPP, Lakhmandas of PML(F) have obtained nomination papers for the seats reserved for minorities, whereas Surraya Jatoi of PPP have obtained nomination papers for seats reserved for women.
Meanwhile, the Election Commission has set up Online Scrutiny Cell in Islamabad to facilitate returning officers in scrutiny of nomination papers of contesting candidates.
According to a press release issued by the Election Commission on Monday, the cell comprising four teams, will work 24 hours till 14th of this month.
It said a software has also been developed connecting NADRA, FBR, NAB and State Bank of Pakistan with Election Commission Secretariat through a safe system.
Under the online scrutiny process, returning officer will send particulars of the candidates to Election Commission through email or fax on daily basis.
After completing the scrutiny process through the software, the teams of the Cell will return details about the candidates received from all the concerned departments to the returning officers.