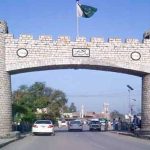 LONDON: Angry protesters attacked and broke down the door of former prime minister and Pakistan Muslim League-Nawaz (PML-N) supremo Nawaz Sharif's Avenfield flats in Park Lane in Central London on Sunday.
The angry mob also tried to block path of Nawaz Sharif and also surrounded PML-N leader Ijaz Gull. Police reached the spot and brought the situation under control.
A large number of PML-N workers reached Avenfield House after the incident and raised slogan in Nawaz Sharif's favour.
The PML-N UK president Shakoor Khan has accused that protesters belonged to a rival political party. He also said that the protesters were armed too. He alleged that the protesters were associated to Pakistan Tehrik-e-Insaf (PTI).
However, the British chapter of the Pakistan Tehreek-e-Insaf (PTI) condemns the incident of protesters breaking down the door to Sharifs' Avenfield flats here in the city earlier in the day.
The PTI UK strongly condemns the attack on Hussain Nawaz's residence and that there was no truth in the accusation that the party's workers were behind the incident. "We are not associated in any way with the attack on Hussain Nawaz's residence or the related protest," the spokesperson stated, adding that the party demands action be taken against the suspect(s).
The PTI has strictly refrained party workers from going to or near the Sharifs' residence or protesting outside, he commented, noting that the public should not be wasting time protesting outside the said area.
The people should play their role in the upcoming general elections on July 25 and bring the change through their votes, the spokesperson added.