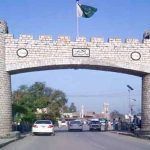 KARACHI: Chairman Pakistan Tehreek-e-Insaf (PTI) Imran Khan has arrived here in Karachi on Wednesday where he will be meeting representatives of different schools of thought.
Soon after arriving in Karachi on three-day visit, which is being considered of immense importance for PTI, Khan held a meeting with prominent industrials and factory owners in Korangi's industrial estate.
The PTI chief will visit membership camp in Quaidabad area of Malir at 3pm and held meeting with party workers.
Khan will hold a press conference in the house of PTI leader Shamim Firdous and visit the house of Aleem Adil Sheikh, a PTI leader of Sindh chapter.
He will address workers' convention in Shah Faisal Colony Korangi at 7pm and his activities of almost the same nature will continue on his second day of the visit to Karachi.
On the third day, Khan will head toward Tandu Muhammad Khan to address a public gathering.
Immense importance is being given to this visit and it is expected that Khan will make some important announcements during the visit.