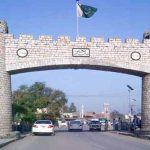 ISLAMABAD: Rejecting the July 25 elections as rigged, Maulana Fazlur Rehman, chief of MMA, has said that Pakistan Tehreek-e-Insaf (PTI) does not have majority in the National Assembly.
Talking to media after MMA central Shura meeting here on Tuesday, Maulana Fazlur Rehman said that the PTI did not have majority in the National Assembly. He said that the PTI had no right to talk about changing the governors and formation of government without completing the numbers.
He said that the Election Commission should not insist on fairness of the elections and asked the commission to stop misinterpretation of the constitution for the PTI. He said that all the constituencies should be reopened.
He said that there were not rifts in the MMA and asked the workers to continue their protest in their respective constituencies. He said that the next strategy for protest would be devised in consultation with other parties during an APC.