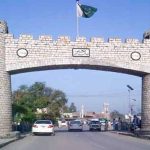 ISLAMABAD: Adviser on Parliamentary Affairs Babar Awan said the present government will speed up the process of reforms in seminaries.
Speaking in Senate, Babar Awan said this will help bring the seminary students in the national mainstream and also create job opportunities for them. He said that six hundred and eighty-nine (689) seminaries have been registered in FATA while in the rest of the country 176 seminaries have so far been registered.
Minister for Railways Sheikh Rashid told the House that the deficit of Pakistan Railways was over thirty billion rupees in 2013 while it rose to about forty-one billion rupees in 2018. He said that a proposal regarding leasing out the land of Pakistan Railways will be presented in the cabinet meeting.
The Senate was informed today that entertainment and the film industry will be given priority by the information ministry as per the new policy.
The previous government in the center spent seventeen billion rupees on ads and if the amount spent by the Punjab government is also accumulated then that figures reach forty billion rupees.
He said Prime Minister Imran Khan has given clear instructions that no amount will be spent for self-projection or the publicity of the government.
The Information Minister said that censorship has been lifted on the state owned media and now the opposition parties are also being given time on the PTV.
He said Pakistan Television has been directed to complete the process of installation of boosters in different areas in three months.