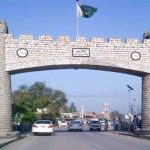 SADIQABAD: Chief Minister (CM) Shahbaz Sharif has said that 'sit-in enthusiasts' want to see the country in state of chaos.
The Chief Minister was addressing a ceremony organised for inauguration of first phase of industrial estate in Sadiqabad when he lashed out at Pakistan Tehreek-e-Insaf (PTI) in Panama leaks matter.
CM Shahbaz said that PTI leadership does not want to see the country progress as they wish to come in power one way or the other. The party that has led different sit-ins against the government in the recent past wants to push Pakistan back to dark ages, he added.
While throwing a jab at PTI's chairman Imran Khan and senior membes, the Chief Minister said that there are people who do not want to discuss their debts as they had written those off.
The Chief Minister also talked about Panama leaks and stated that the opposition had demanded off the government to establish a commission led by the Chief Justice of Pakistan (CJP) to probe the case. The government entertained the demand and wrote to the Supreme Court (SC), he added.
CM Shahbaz said that it is the reputation of Prime Minister (PM) Nawaz Sharif's government that has gotten Pakistan historic investment from China ranging up to USD 46 billion. Country's biggest issue is energy crisis and Pakistan Muslim League-Nawaz's (PML-N) government has acted on emergency basis to curb the prevailing power shortage, he added.
The Chief Minister said that solar power plant in Bahawalpur is now functional and adding to the national grid while 1,320 Mega Watt (MW) power project in Sahiwal is near to completion. He said that the Prime Minister took from his pocket to start work on different projects including Baloki, Haveli Bahadur Shah and Jhang that collectively would produce 3,600 MW electricity.
He vowed that the government would end electricity crisis by the start of 2018.
While talking about the industrial estate in Sadiqabad, the Chief Minister said that thousands of people would get employment opportunities and the area would prosper. He added that the provincial government paid heed to call attention notice by Rahim Yar Khan Chamber of Commerce's president Amaarud Din over power shortage.
CM Shahbaz vowed to better power supply to industries.