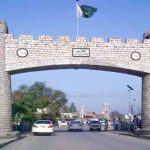 ISLAMABAD: Pakistan Tehreek-e-Insaf (PTI) has raised questions over the jurisdiction of Election Commission of Pakistan and Supreme Court in connection with hearing the foreign funding case filed against PTI chairperson Imran Khan and Jehangir Tareen.
PTI's lawyer Anwar Mansoor said that only the federal government had the authority to investigate the issue of 'foreign funding' of political parties saying in case the matter was referred to the ECP, the move would be challenged.
He said according to the law, parties were allowed to accept donations from members and supporters, even those living outside the country and dual nationals.
A three-member bench comprising Chief Justice Saqib Nasir, Justice Umar Ata Bandial and Justice Faisal Arab, which is hearing the case adjourned the hearing till 23.
The Supreme Court is hearing a petition filed by Pakistan Muslim League-Nawaz (PML-N) leader Hanif Abbasi regarding alleged money laundering and tax theft by Imran Khan and PTI Secretary General Jahangir Tareen.