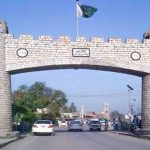 KARACHI: A resolution condemning Pakistan Peoples Party Co-chairman Asif Ali Zardari has been submitted in Sindh Assembly on Monday for defending former SSP Malir Rao Anwar.
The resolution was tabled by Pakistan Tehreek-e-Insaf's (PTI) Khurram Sher Zaman in which, he criticized Zardari for declaring Anwar, who killed innocent people in fake encounters, as brave kid.
The resolution further demanded Zardari to apologize from Karachi people.
Earlier, in an interview, Zardari had maintained that media sensationalized Naqeebullah murder case. "Everyone should back off and review the case from a new angle," he asserted.
"The reports of Rao's involvement in 444 extra-judicial killings are mere talks. If there are this much encounters, why only 440 petitions against him are in courts?" he questioned.
The former SSP Malir is under scrutiny over his alleged involvement in the extrajudicial killing of Naqeebullah Mehsud.
The Supreme Court (SC) on Friday had issued contempt of court notice to Anwar and directed to freeze all his bank accounts over failure to appear in hearing.