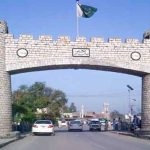 ISLAMABAD: With general elections around the corner, the political parties have expedited their election campaigns across the country by holding public gatherings.
To show its political power, Pakistan Tehreek-e-Insaf (PTI) will hold public rallies in Multan, Jhelum and Shahdara area of Lahore today.
PTI Chairman Imran Khan is expected to address the rallies.
Meanwhile, Pakistan Muslim League-Nawaz (PML-N) will also hold a public gathering in Rajanpur where PML-N President Shehbaz Sharif will address the participants.
Pakistan People's Party (PPP) will also flex its political muscles with rallies in Gujrat, Mandi Bahauddin, Sargodha and Jhelum.
PPP Chairman Bilawal Bhutto Zardari will address the rallies.
Likewise, Muttahida Majlis-e-Amal (MMA) will organize a public gathering in Dera Ismail Khan where Jamat-e-Islami (JI) Chief Siraj ul Haq and Jamiat Ulema-e-Isam-Fazal (JUI-F) will address the participants.