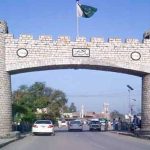 SWABI: Pakistan Tehreek-e-Insaf leader and candidate Shahram Khan Tarakai on Friday said that people of Swabi will give historic welcome to Imran Khan who is coming to address an election rally on Saturday.
In a statement, he claimed that participation of hundreds of thousands of people in the rally will prove that Pakistan Threek-e-Insaf (PTI) is the most popular party in the Swabi and province, adding PTI will sweep elections and will come into power again on basis of its performance.
He claimed that Khyber Pakthunkhwa was only province where powers were transferred to grass roots level and thirty percent of development budget was allocated to district governments.
Shahram claimed that realizing health problems being faced by the people, PTI government has allocated health cards to 70 percent deserving people and increased health budget by three times.
He claimed that 20 percent of the budget was allocated to education and recruited over 57 thousand teachers in the province on merit through NTS system, besides construction of 10 thousands schools, 47 colleges and ten universities.
He claimed that after coming into power again, the PTI government would further strengthen district government system by allocating more development budget and power so that decisions could be taken at local level by people's representatives.