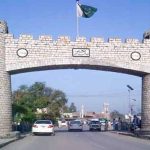 ISLAMABAD: The parliamentary party meeting Pakistan Tehreek-e-Insaf (PTI) in Khyber Pakhtunkhwa (KP) will be held today.
The meeting was summoned by PTI chief Imran Khan for consultation and nomination of chief minister of Khyber Pakhtunkhwa after PTI's victory in the provincial assembly elections in the province.
Former chief minister Pervaiz Khattak has given names of Shah Farman and Mahmood Khan for the slot of Khyber Pakhtunkhwa chief minister.