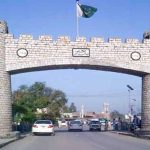 PESHAWAR: Pakhtun Tahfuz Movement (PTM) has cancelled the Razmak public meeting after successful talks with tribal jirga on Tuesday.
According to reports, the jirga was held in Peshawar, which was attended by Mohsan Dawar of PTM, Shah Farman, Shah Jee Gul Afridi and others.
The jirga assured the PTM leaders that the activists of the PTM would released, who were arrested in Mirali, Wana and Islamabad. The PTM announced to cancel its scheduled public meeting in Razmak on third day of Eid.
The tribal elders said that all the issues would be resolved as per tribal traditions. The next meeting of the jirga would be held on June 22.
The jirga, which was held in the courtyard of ShaH Jee Gul Afridi, was attended by prominent leaders, including Chief Patron Fata Grand Alliance Malik Khan Marjan, Pakistan Muslim League-Quaid (PML-Q) leader Ajmal Khan Wazir, Pakistan Tehreek-i-Insaf (PTI) leader Shah Farman and key PTM leader Mohsin Dawar.
Malik Khan Marjan said that PTM has provided assurances that they will avoid using anti-army slogans in their protests and gatherings.
Ali Wazir, the central leader of PTM was unable to attend the meeting due to engagements in Dera Ismail Khan but remained in telephonic contact throughout.
While talking to media persons, Mohsin Dawar said that the movement had decided to hold a protest to demand the release of PTM activists arrested in Islamabad, Wana, Mir Ali, etc, but decided to call it off when they were promised the workers would be released.