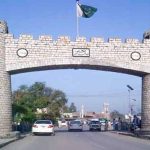 LAHORE: Punjab Assembly has elected Pakistan Tehrik-e-Insaf (PTI) nominee Usman Buzdar as Punjab Chief Minister after securing 186 votes against his rival PML-N's Hamza Shehbaz who could obtained 159 votes.
The Punjab Assembly session began Sunday amid ruckus by the lawmakers of Pakistan Muslim League Nawaz who gathered in front of Speaker protesting his 'late arrival in the assembly'.
After the counting, Pervez Elahi announced the victory of PTI's candidate prompting celebrations among the members who hugged the newly elected Leader of House.
The election was held by division of members in two separate lobbies allocated for the candidates.
Usman Buzdar's election as the CM has ended the rule of Sharif family in their heartland after 10 years. Shahbaz Sharif remained the chief executive of country's largest province from 2008 till 2018.
PTI and its allies, at a joint parliamentary meeting, on Saturday endorsed the decision by Prime Minister Imran Khan to nominate Usman Buzdar as the chief minister Punjab.
The meeting was also addressed by Prime Minister Imran Khan in which he took his party members into confidence over the nomination of Buzdar. Noted figures, who attended by the meeting, included nominated Governor Punjab Chaudhry Sarwar, Speaker Punjab Assembly Chaudhry Pervaiz Elahi, Abdul Aleem Khan and others.
Imran Khan, in his address on the occasion, termed the nomination of Usman Buzdar as fully justified and stated Usman was aware of the concept of the 'New Pakistan'. Buzdar is facing different allegations from his rivals.