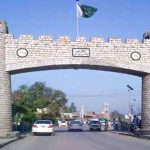 LAHORE: The Punjab assembly passed the annual budget 2019-20 on Wednesday, as lawmakers from the Pakistan Muslim League-N (PML-N), the largest opposition party, were either absent or disinterested.
As the voting commenced, Punjab's Chief Minister Usman Ahmed Buzdar was present in the house, while the leader of the opposition, Hamza Shehbaz, was missing.
Hamza Shehbaz, who is in the custody of the National Accountability Bureau (NAB), in connection to a case of money laundering and owning assets beyond his known source of income, was brought to the provincial assembly on the orders of the speaker.
Yet, at 3 pm when the house was to vote on the budget, he chose to remain in his chambers and not take his seat in the assembly. Other prominent PML-N leaders were also either away or remained silent during the passage of the bill.
The PML-N is the largest opposition party in the Punjab assembly, with 166 MPAs in a house of 371.
On June 14, the Pakistan Tehreek-e-Insaf's government in Punjab unveiled a provincial budget of Rs 2.3 trillion for the fiscal year 2019-20. While the budget was being debated, Shehbaz upbraided the PTI-government for not dealing with people's issues and for slashing the development budget for the province of 110 million people.
The lacklustre and passive response in the Punjab assembly was witnessed on the same day the opposition parties, including the PML-N, gathered in Islamabad to hold a multi-party conference with the purpose to give the ruling party a tough time in and outside the parliament.